Reject Chutes at the Machine Shaft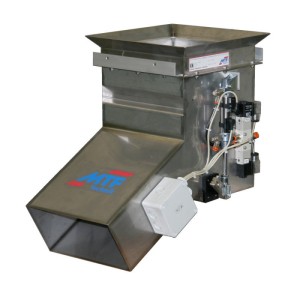 Next to the two-way reject chutes, there are three-way reject chutes available, as well. These chutes often serve as combination of QA-chute and separation chute. Thus, the good parts can be conducted into container A, the reject parts into container B and the sprue parts into container C.
In some cases, the reject chutes are used for buffering applications, i.e. a container is filled with a defined number of production cycles, afterwards the flap switches over and the next container is filled.
All reject chutes are designed individually according to the machine and the intended task.
The reject chutes serve for automation of the procution process and contribute to quality management.
Reject chutes are generally mounted below the tool of an injection moulding machine and serve to separate the material flow. A further field of application is the use below a stamping machine. The body of the reject chute consists of stable welded stainless steel and disposes of a moveable flap which divides the material flow into two channels (2-way chute). Alternatively there are versions with two flaps available (3-way chutes).
The reject chutes have different functions:
As standard reject chute they are used to discharge start-up or reject parts. A signal from the control unit of the machine switches over the chute flap and to conduct the reject parts into a separate container. In the function of a QA-chute, a shot is discharged automatically for QA-check in regular intervals. A further field of application of reject chutes is sprue separation. Here the devices are used as separation chute, selection flap, sprue chute, i.e. with every shot, there is a switch of the chute. Thus, the good parts are conducted into one channel, the sprue parts into the other.
Depending on the control unit, also start-up and reject parts can be added to the sprues. This would be a combination of QA-chute and separation chute for runners.
Reject chutes for Engel injection moulding machines
Reject chutes for Sumitomo SHI Demag injection moulding machines
Reject chutes for Fanuc injection moulding machines
Reject chutes for Netstal injection moulding machines
Reject chutes for Ferromatik injection moulding machines
Reject chutes for Japan Steel Works injection moulding machines
Reject chutes for Arburg injection moulding machines