Belt Curves for Alignment of Goods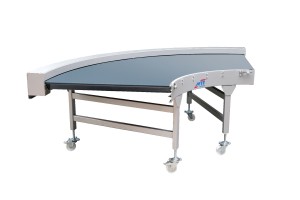 Belt Curves from MTF Technik are used for unit load transport. They are applied, if the the original alignment of the goods during the conveying process has to be maintained. The belt curves are designed individually for the specific application and are therefore custom-made.
The base frame consists of a stable welded steel construction (stainless steel as option).
Due to the cylindric deflections with minimal deflection roller diameters of only 8mm (rolling knife edge), the conveyor is suitable for transporting even complex parts.
Standard belt curves are available with various features and specifications, according to individual requirements.