Belt Conveyors of Multi-Tech Series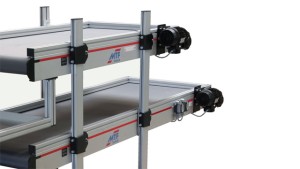 Straight conveyor belts for depositing and feeding parts
The straight Multi-Tech Belt Conveyors of type GL are versatile. Depending on the combination of lateral side profiles, outer belt cover materials, drive units, underframes and extra parts, they can be used for diverse applications.
Regardless of an use as horizontal delivery belt, as steep batching belt conveyor, in cleanrooms or in metal-cutting processings - Multi-Tech belt conveyors are always designed and manufactured in accordance with the requirements and therefore are a perfect solution for various applications.
Product Information
Belt conveyors with negative angle in patented technology
The MTF Multi-Tech angled belt conveyors are probably unique on the market with regard to processing quality and functionality.
The patented belt tensioning mechanism ensures that the belt tension remains constant and balanced over the entire angle adjustment range between 0° and 60°. The combination of the high-quality materials for outer belts covers effectively prevents the belt from forming a bump in the belt bend and thus, from wearing out.
The MTF angled belts therefore do not need a forcible belt guide and control. This reduces wear and downforce.
Stable bend covers, chain protection parts and protection parts for belt rotation made of aluminium make these belt conveyors extremely resistant and reliable assistants in your production.
Belt conveyors with positive angle for feeding machines
Conveyors with positive angle are used in many industries and for the most different applications. They often serve as feeding belt for assembly or automation processes or for the feeding into grinders.
In connection with an attachment hopper or a bunker conveyor belt connected upstream they can also take on the function as a batching belt conveyor and feed or deliver parts in batches to the subsequent process.
The angle is continuously adjustable to any angle between 0° and 60° whereby the belt tension remains constant over the entire adjustment range.
Z-shaped belt conveyors for perfect integration
The MTF Z-Belt Conveyors provide a standard continuous angle adjustment of both belt bends from 0° to 60°. Thanks to the patented belt tensioning mechanism the belt cover tension remains constant over the entire adjustment range.
The sophisticated construction of inner and outer profiles sets standards with regard to easy service and maintainability. This way, e.g. the inner frame including all rollers and guides remains untouched during a belt replacement.
Infinite combination options with regard to dimensions, belt materials, drive units, underframes and attachment elements allow these belt conveyors to be used universally.
Flat belt conveyor for a wide range of applications; MTF Technik is your expert for conveyor technology
MTF is your experienced partner when it comes to technically mature research and development technology. Our Multi-Tech belt conveyors are particularly versatile and convince in terms of processing quality and functionality; in addition, we offer a large selection of different belt materials, drive units, base frames and attachments, which enable use in almost all industrial sectors and for the most diverse transport tasks.
In case of flat belt conveyor, negative angled conveyor, positive angled conveyor or Z-angled conveyor; you will always receive a top product that is convincing in terms of quality, functionality, stability, performance and design. You can rely on a high degree of economy and an optimal price-performance ratio. The perfect belt sealing guarantees the highest level of occupational safety. Furthermore, our MTF Multi-Tech belt conveyors are easy to maintain and clean.
Flat Belt Conveyor Type GL
GL conveyor belts can be used for numerous applications depending on the combination of lateral guide profiles, conveyor belt materials and designs, drive units, underframes and attachments. Whether as a horizontally installed deposit conveyor belt or machine discharge belt, steeply standing dosing conveyor belt, in the clean room or in metal-cutting metal processing - we manufacture the Multi-Tech conveyor belts according to customer requirements; this way we can always offer the perfect solution for the most varied tasks.
The straight Multi-Tech type GL convinces by perfection down to the smallest detail. The flat belt conveyors benefit from a high-quality design, a compact construction with an optimum outer width/usable width ratio as well as a perfect seal between belt body and belt cover, which prevents small parts from jamming. For a trouble-free conveying process, impact edges are consistently avoided. In addition, we offer a wide range of different base frames and drive units for the most diverse requirements.
In the case of a robot deposit conveyor belt ( flat conveyor belt) without lateral guidance, a drum motor or a motor positioned underneath it is often suitable for transporting parts that protrude laterally beyond the belt body. A simple telescopic underframe is often used here, which is mounted underneath the conveyor belt to avoid disturbing edges. Thus the conveyor belt can be used flexibly on different machines.
Longer conveyor belts are sometimes used as horizontal flat conveyor belts with multiple supports as base frames. The conveyor belts can thus be used at manual assembly workstations or integrated into packaging systems or other automation applications. In addition, they are also used as transfer conveyors between different presses or, for example, as a parts conveyor on various processing machines. Equipped with pneumatic carton centering, a flat belt conveyor is used wherever, for example, robots or other handling devices place parts in boxes or trays and thus serves to automate storage processes.
Due to the modular construction short delivery times can be realized. In addition, extensive accessories are available. Due to the absolutely smooth surfaces, the shelves are easy to clean. Convince yourself of the robust construction in proven MTF quality.
Tailor-made R&D technology from MTF
Transport technology is of central importance for the flow of materials in companies. It ensures that goods are issued, delivered, stored and finally commissioned in the process chain of all procedures for production, processing and distribution of goods.
In addition, conveyor systems can increase the throughput of warehouses and avoid long downtimes and traffic jams. The wide range of conveying techniques allows us to offer flexible solutions, for example for a flat belt conveyor, depending on the requirements. Sustainably implemented conveying technology can increase the value added of a company.