Multi-Tech Belt Conveyors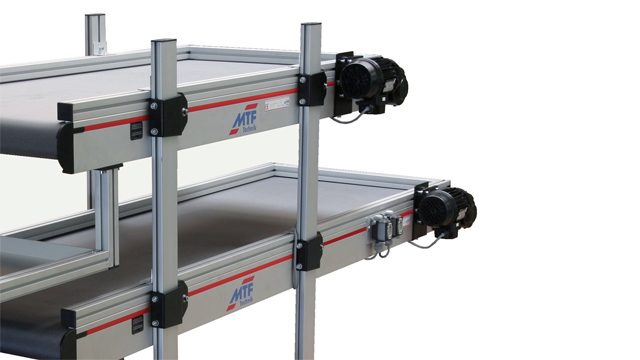 Straight Belt Conveyors
The straight Multi-Tech Belt Conveyors of type GL are versatile. Depending on the combination of lateral side profiles, outer belt cover materials, drive units, underframes and extra parts, they can be used for diverse applications.
Regardless of an use as horizontal delivery belt, as steep batching belt conveyor, in cleanrooms or in metal-cutting processings - Multi-Tech belt conveyors are always designed and manufactured in accordance with the requirements and therefore are a perfect solution for various applications.
Product Information
Belt Conveyors with Negative Angle
The MTF Multi-Tech angled belt conveyors are probably unique on the market with regard to processing quality and functionality.
The patented belt tensioning mechanism ensures that the belt tension remains constant and balanced over the entire angle adjustment range between 0° and 60°. The combination of the high-quality materials for outer belts covers effectively prevents the belt from forming a bump in the belt bend and thus, from wearing out.
The MTF angled belts therefore do not need a forcible belt guide and control. This reduces wear and downforce.
Stable bend covers, chain protection parts and protection parts for belt rotation made of aluminium make these belt conveyors extremely resistant and reliable assistants in your production.
Belt Conveyors with Positive Angle
Conveyor with positive angle are used in many industries and for the most different applications. They often serve as feeding belt for assembly or automation processes or for the feeding into grinders.
In connection with an attachment hopper or a bunker conveyor belt connected upstream they can also take on the function as a batching belt conveyor and feed or deliver parts in batches to the subsequent process.
The angle is continuously adjustable to any angle between 0° and 60° whereby the belt tension remains constant over the entire adjustment range.
Z-Shaped Belt Conveyors
The MTF Z-Belt Conveyors provide a standard continuous angle adjustment of both belt bends from 0° to 60°. Thanks to the patented belt tensioning mechanism the belt cover tension remains constant over the entire adjustment range.
The sophisticated construction of inner and outer profiles sets standards with regard to easy service and maintainability. This way, e.g. the inner frame including all rollers and guides remains untouched during a belt replacement.
Infinite combination options with regard to dimensions, belt materials, drive units, underframes and attachment elements allow these belt conveyors to be used universally.
Flachförderband für vielfältige Anwendungen – MTF ist Ihr Experte für Fördertechnik
Wenn es um technisch ausgereifte Fördertechnik geht, ist MTF Ihr erfahrener Ansprechpartner. Unsere Multi-Tech Gurtförderbänder sind besonders vielseitig und überzeugen in puncto Verarbeitungsqualität und Funktionalität – zudem bieten wir eine große Auswahl unterschiedlicher Gurtmaterialien, Antriebseinheiten, Untergestelle und Anbauteile, die einen Einsatz in nahezu allen Industriebereichen und für verschiedenste Förderaufgaben ermöglichen.
Ob Flachförderband, negativ abgewinkeltes Förderband, positiv abgewinkeltes Förderband oder Z-förmig abgewinkeltes Förderband – Sie erhalten in jedem Fall ein Spitzenprodukt, das in Bezug auf Qualität, Funktionalität, Stabilität, Leistung und Design überzeugt. Sie können auf eine hohe Wirtschaftlichkeit sowie ein optimales Preis-Leistungs-Verhältnis vertrauen. Die perfekte Bandabdichtung garantiert höchste Arbeitssicherheit. Zudem sind unsere MTF Multi-Tech Förderbänder wartungs- und reinigungsfreundlich.
Flachförderband vom Typ GL
Die GL-Förderbänder können je nach Kombination aus seitlichen Leitprofilen, Fördergurtmaterialien und -ausführungen, Antriebseinheiten, Untergestellen und Anbauteilen für zahlreiche Anwendungen eingesetzt werden. Egal ob als waagerecht aufgestelltes Ablageförderband oder Maschinenaustragsband, steil stehendes Dosierförderband, im Reinraum oder in der spanenden Metallverarbeitung - die Multi-Tech Förderbänder fertigen wir auftragsbezogen nach Kundenwunsch – so können wir für unterschiedlichste Aufgabenstellungen immer die perfekte Lösung bieten.
Die geraden Multi-Tech Förderbänder vom Typ GL überzeugen durch Perfektion bis ins kleinste Detail. Die Flachförderbänder profitieren von einer qualitativ hochwertigen Ausführung, einer kompakten Bauweise mit optimalem Außenbreiten-/Nutzbreitenverhältnis sowie einer perfekten Abdichtung zwischen Bandkörper und Laufdecke, die ein Verklemmen kleiner Teile verhindert. Für einen störungsfreien Förderprozess werden Stoßkanten konsequent vermieden. Zudem bieten wir eine große Auswahl unterschiedlicher Untergestelle und Antriebe für verschiedenste Anforderungen.
Beim Roboter-Ablageförderband (Flachförderband) ohne Seitenführung bietet sich oftmals ein Trommelmotor oder unterhalb positionierter Motor an, um Teile zu transportieren, die seitlich über den Bandkörper hinausragen. Hier wird dann oftmals ein einfaches teleskopierbares Untergestell eingesetzt, welches zur Vermeidung von Störkanten unterhalb des Förderbands montiert wird. Damit ist das Förderband flexibel an verschiedenen Maschinen einsetzbar.
Längere Förderbänder werden z.T. als waagerechtes Flachförderband mit mehrfachen Abstützungen als Untergestell eingesetzt. So können die Förderbänder an manuellen Montagearbeitsplätzen oder integriert in Verpackungsanlagen oder sonstigen Automationsanwendungen eingesetzt werden. Darüber hinaus werden sie auch als Transferbänder zwischen unterschiedlichen Pressen oder z.B. als Teilerückführung an diversen Bearbeitungsmaschinen verwendet. Ausgestattet mit pneumatischer Kartonzentrierung kommt ein Flachförderband überall dort zum Einsatz, wo z.B. Roboter oder sonstige Handlinggeräte Teile in Kisten oder Trays platzieren und dient damit zur Automatisierung von Ablageprozessen.
Durch die Modulbauweise können kurze Lieferzeiten realisiert werden. Zudem ist umfangreiches Zubehör lieferbar. Durch die absolut glatten Oberflächen lassen sich die Förderbänder leicht reinigen – überzeugen auch Sie sich von der robusten Konstruktion in bewährter MTF-Qualität.
Maßgeschneiderte Fördertechnik von MTF
Fördertechnik ist für den Materialfluss in Unternehmen von zentraler Bedeutung. Sie sorgt in der Prozesskette aller Abläufe zu Produktion, Bearbeitung und Verteilung von Waren dafür, dass Güter ausgegeben, geliefert, aufbewahrt und schließlich kommissioniert werden.
Zudem können Fördersysteme den Durchsatz von Lagern erhöhen und lange Standzeiten und Staus vermeiden. Die Bandbreite an Fördertechniken erlaubt es, je nach Anforderung flexibel angepasste Lösungen zum Beispiel für ein Flachförderband anzubieten. Nachhaltig realisierte Fördertechnik kann die Wertschöpfung eines Unternehmens steigern, indem sie den betriebsinternen Materialfluss effizienter und effektiver gestaltet.
MTF bietet hochwertige und kundenspezifische Lösungen direkt vom Hersteller. Bei uns können Sie auf eine langjährige Erfahrung und fachmännisches Know-how sowie exzellenten Kundenservice vertrauen. Dank eigens entwickelter Lösungen sind wir in Lage, Ihnen zuverlässige, flexible und funktionale Förderbänder nach Kundenwunsch anzubieten.
Ob Kunststoff, Metall, Pharma, Elektro, Logistik, Papier und Verpackung oder Automatisierung und Maschinenbau – teilen Sie uns einfach Ihre Wünsche und Bedürfnisse mit. Gemeinsam finden wir garantiert eine Fördertechnik-Lösung, die Ihren Ansprüchen vollumfänglich gerecht wird.