Belt Conveyors for Every Application
Which belt conveyor suits your requirements? 
Our belt conveyors are the all-rounder for the inhouse material transport. Whether you choose a belt conveyor based on the variable Multi-Tech system or prefer a small conveyor for limited space. We develop the best application for your individual requirements, always based on innovative techniques and high-quality materials.
Multi-Tech Belt Conveyors
MTF Multi-Tech Belt Conveyors are hard to beat in terms of versatility. Due to the great variety of different belt materials, drive units, bases and accessories they can be used in almost every area of industry and for a broad range of conveying tasks.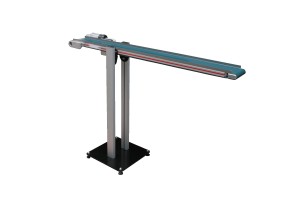 Small Belt Conveyors
Limited space? Then the MTF Small Belt Conveyors of Type I-Tech are the ideal solution. Due to the low overall height of only 30 mm and the optimal ratio between outside width and usable width the conveyor can be integrated into the narrowest machine or tool shafts, as well. The small belt conveyors can be designed up to a width of 500mm and length of 3000mm. However, these belt conveyors should only be used with low belt loads.
What to consider when choosing your conveyor belt
Both types of belt conveyors are available in various basic shapes and angles, with various drive units and controls, with numerous belt type, side profile types, base frames and accessories for customising the belt conveyor to your requirements. Our consultants will be happy to take your requests or to advise you personally on the design of your belt conveyor on site.
Do you already have a concrete idea of your belt conveyor? For standard units, you can also use our product configurator, which you can access simply by clicking on the red tab on the right side, the one with the spanner symbol. Our design engineers will then take over the final design of the belt conveyor based on your enquiry and technical drawing.
With your belt conveyor in operation, you will benefit from the advantages of our patented techniques and high-quality components:
Infinitely adjustable belt angles with automatic belt tension compensation enable flexible use. Due to this high-quality processing, your belt conveyor will function reliably and be stable and durable. In addition, the conveyor material is optimally protected due to the integrated clip sealing strips. The belt conveyor is very easy to maintain because the self-supporting aluminium double spar construction makes it easy to change the belt. Finally, our belt conveyors are even qualified for the clean room due to the use of smooth surfaces.
Many belt conveyors have been in use with our customers for over 30 years - because only a long-lasting belt conveyor is a real bargain.