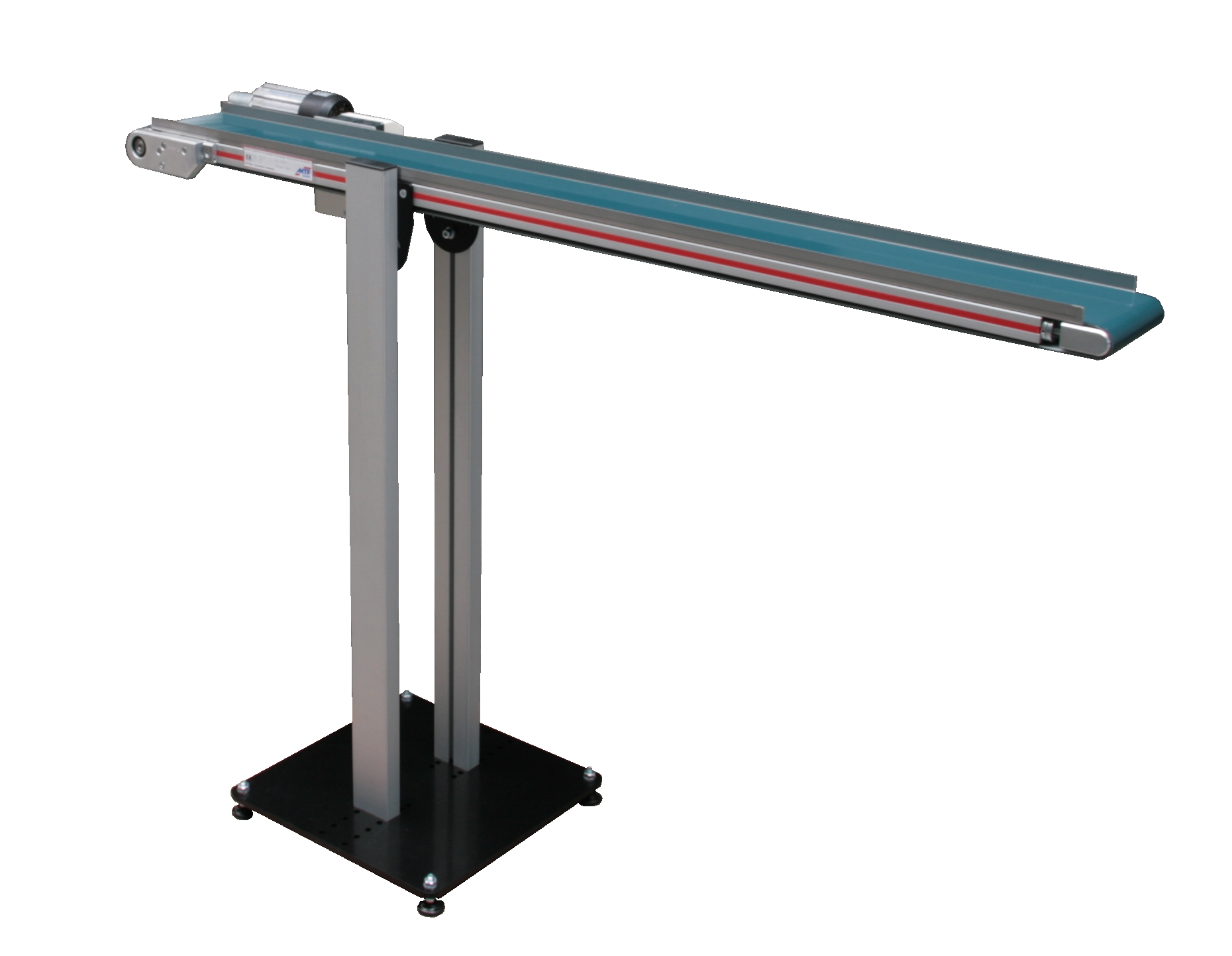 Straight Small Belt Conveyors
The low construction height and the perfect proportions of outer width and effective width make these belt conveyors essential devices where only limited space is available..
That is why the "I" in the type description stands for "Integration" in machine shafts, production processes, automation equipment etc.
The large choice of belt materials, drive units and base frames make them universally deployable. Their scope of application stretches from discharging transport belts from punching machines to transport belts in pharmacy automation facilities or dust-free rooms.
Small Belt Conveyors with Negative Angle
MTF Small Belt Conveyors are a perfect solution where transported goods must be discharged from very low machine shafts and then transported upwards.
They are often used for packaging machines or e.g. plastic injection moulding machines or blow forming machines where they serve as discharge conveyors.
The conveying angle is fixed (30°, 45° or 60°). The maximum belt width is 500mm.
Depending on the particular task, numerous different belts, drive units and base frame types are available.
Small Belt Conveyors with Positive Angle
Positively angled small belt conveyors are e.g. used as feeder belt for assembly processes or are used where a horizontal delivery of the parts to a subsequent process is necessary.
Fixed conveying angles of 30°, 45° and 60° are available for various parts.
Z-Shaped Small Belt Conveyors
Z-shaped small conveyors have fixed belt bends with 30 °, 45° or 60°. They can be equipped with numerous different belt qualities, drive units, base frame types and additional fittings.
They are used for transport of small parts where large differences in height must be overcome but feeding and discharging area must be horizontal.
Kleines Förderband mit verringerter Bauhöhe - ideal für engste Platzverhältnisse
MTF Technik ist Ihr Experte für hochwertige Fördertechnik. Ob Förderbänder, Separiersysteme oder Automatisierungslösungen - für jeden Bedarf bieten wir individuelle Lösungen, die auch höchsten Ansprüchen gerecht werden.
Sie haben nur wenig Platz zur Verfügung? Auch das ist kein Problem - hier bieten sich die MTF Kleinförderbänder vom Typ I-Tech ideal an. Ein kleines Förderband lässt sich dank geringer Bauhöhe einem optimalen Verhaltnis der Außenbreite zu Nutzbreite zuordnen. Auch in engste Maschinen- oder Werkzeugschächte integrieren.
Mit MTF setzen Sie auf jahrzehntelange Erfahrung und fachmännisches Know-how. Wir haben bereits zahlreiche technische Lösungen erfolgreich entwickelt und zur vollsten Zufriedenheit unserer Kunden umgesetzt und stehen auch gerne mit Rat und Tat zur Seite, um eine zuverlässige, flexible und funktionale Lösung zu finden, die Ihren Anforderungen entspricht.
Kontaktieren Sie uns einfach telefonisch unter 02261 / 9431-0, per E-Mail: info@mtf-technik.de oder über unser Kontaktformular - wir freuen uns auf Ihre Kontaktaufnahme.
Kleinförderbänder von MTF - platzsparende Lösungen für jeden Bedarf
Ein kleines Förderband der MTF I-Tech Baureihe ist ideal für engste Platzverhältnisse. Ob gerade, negativ abgewinkelt, positiv abgewinkelt oder Z-förmig - unsere Kleinförderbänder bieten wir für jeden Anspruch und Bedarf mit unterschiedlichen Antriebseinheiten. Je nach Bedarf kann optional auch eine Ausführung mit rollender Messerkante gewählt werden.
Die seitlich eingezogenen Spannelemente sorgen für ein optimales Außenbreiten- / Nutzbreitenverhältnis. Die seitliche Nut entlang des gesamten Profils sorgt für eine einfache Integration in Maschinen bzw. Befestigung von Anbauteilen. Außerdem verfügt jedes Mini-Förderband über ein stabiles Untergestell.
Wir bieten Ihnen eine große Auswahl standardmäßiger Fördergurte für unterschiedlichste Einsatzbereiche. Darüber hinaus kann ein kleines Förderband der MTF I-Tech Baureihe auch ideal mit den Förderbändern der MTF Multi-Tech Baureihe kombiniert werden.
Kundenspezifische Lösungen für individuelle Ansprüche
Egal ob Sie ein kleines Förderband oder andere Fördertechnik, Separiersysteme oder individuelle Automationslösungen benötigen - MTF ist Ihr erfahrener Partner und kundenspezifische Lösungen für zahlreiche Anwendungsgebiete.
Ob Kunststoff, Metall, Pharma, Elektro, Logistik, Papier und Verpackung oder Automatisierung und Maschinenbau - teilen Sie uns einfach Ihre Wünsche und Bedürfnisse mit. Gemeinsam finden wir garantiert eine Fördertechnik-Lösung, die Ihren Ansprüchen vollumfänglich gerecht wird.