Wire Belt Conveyors for Cooling Hot Parts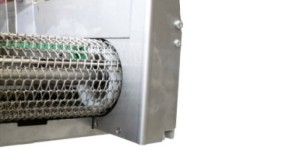 Mesh of steel or stainless steel, available as round or flat wire with a variety of wire diameters, gradients and separations are the right choice for very hot pieces or tasks during which the items being moved, for example, for cooling parts or allowing liquids to run off.
The structure of the mesh guarantees a perfect air circulation. Moreover, the material is very robust and therefore suitable for heavy duty conveying.
Wire Belt Conveyors
MTF wire belt conveyors give their service as cooling belts, drying lines, in climate tunnels or other automation applications. They are available with and without side chain guides.