Automation: Systems for Distribution and Buffering
MTF Technik offers various applications for picking up, distributing, buffering and storing material.
You can find more information under the individual types of devices.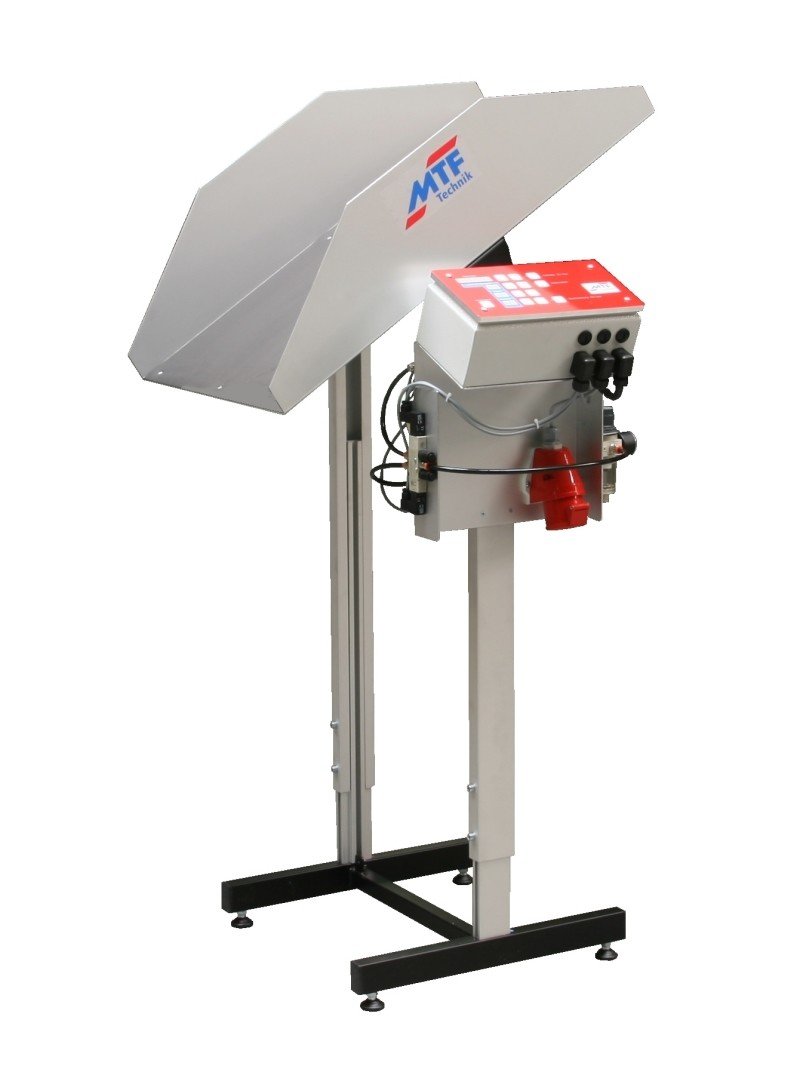 2-Way Distribution Systems

Pickup Systems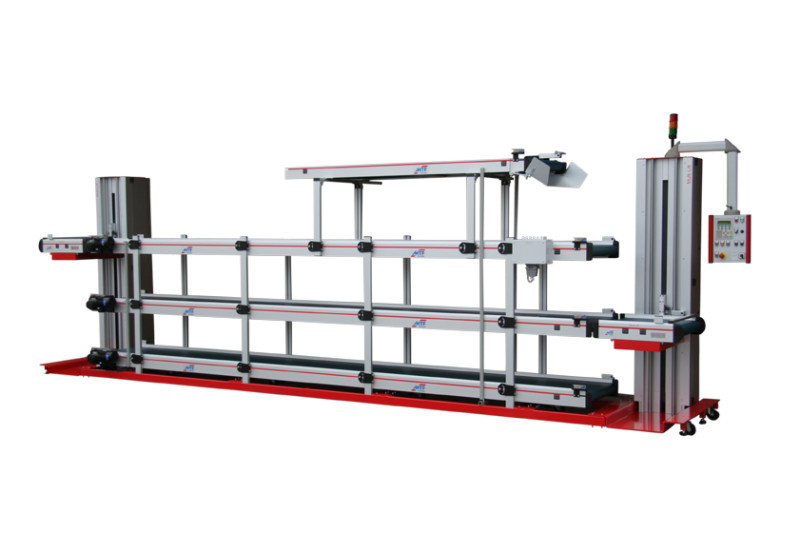 Multi-Story Conveyor Belts and Lift Systems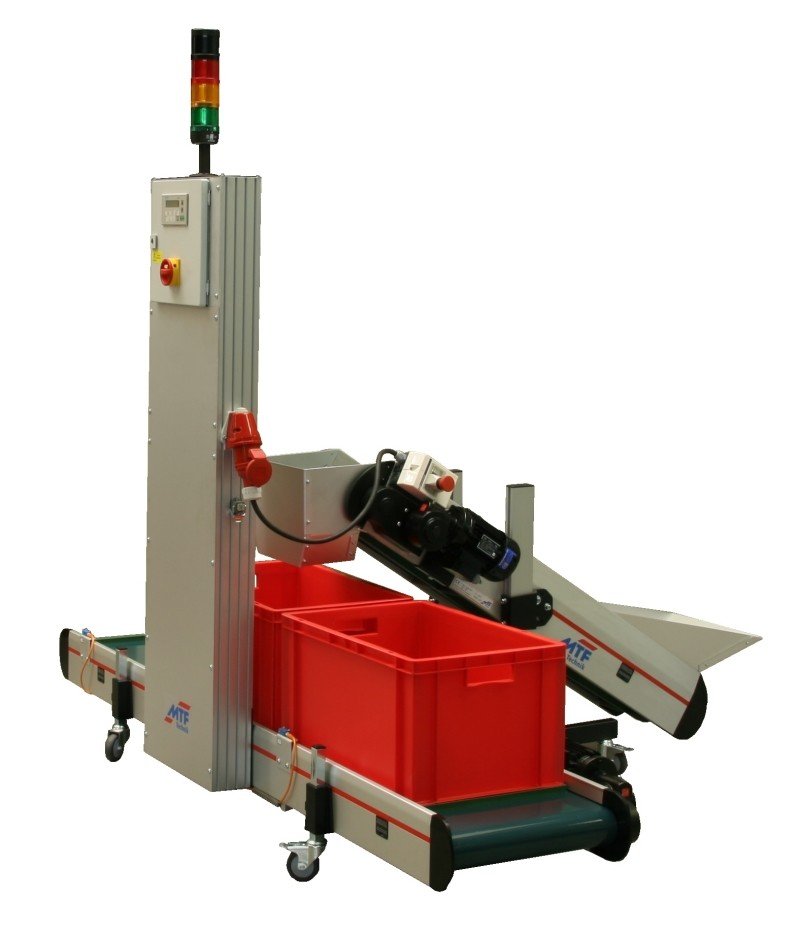 Linear Buffer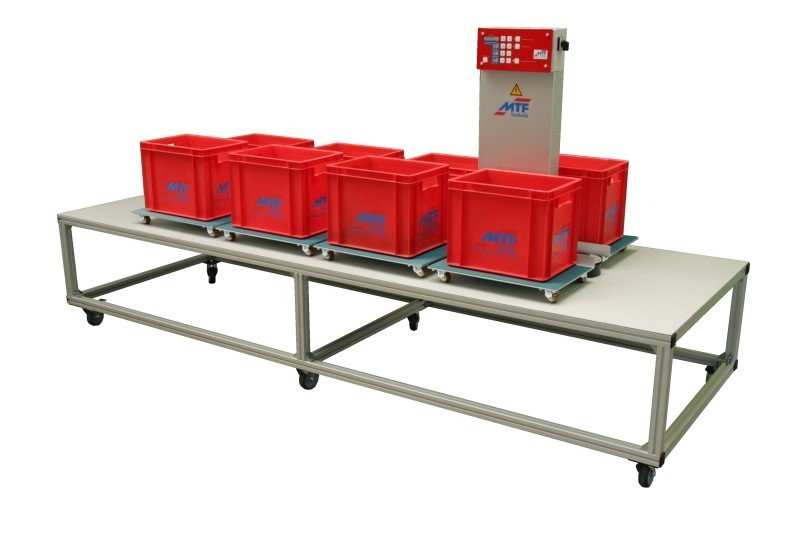 Multi-Linea
Would you like advice for your application?
Please feel free to call us at +49 2261 9431-0 or use our contact form.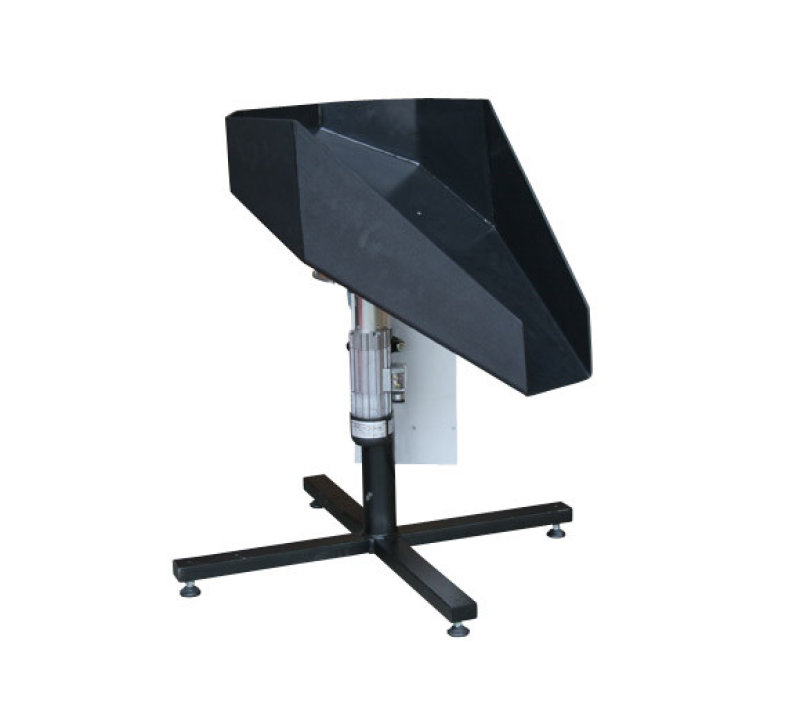 Multi-Rounder


Parallelpuffer mit pneumatischer Verschiebeeinheit


Rollenbahnen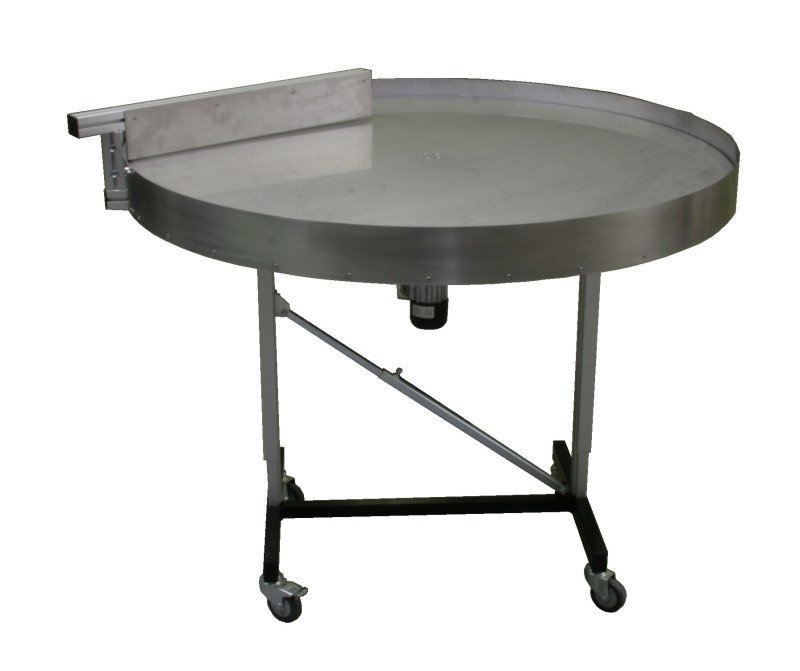 Rundtische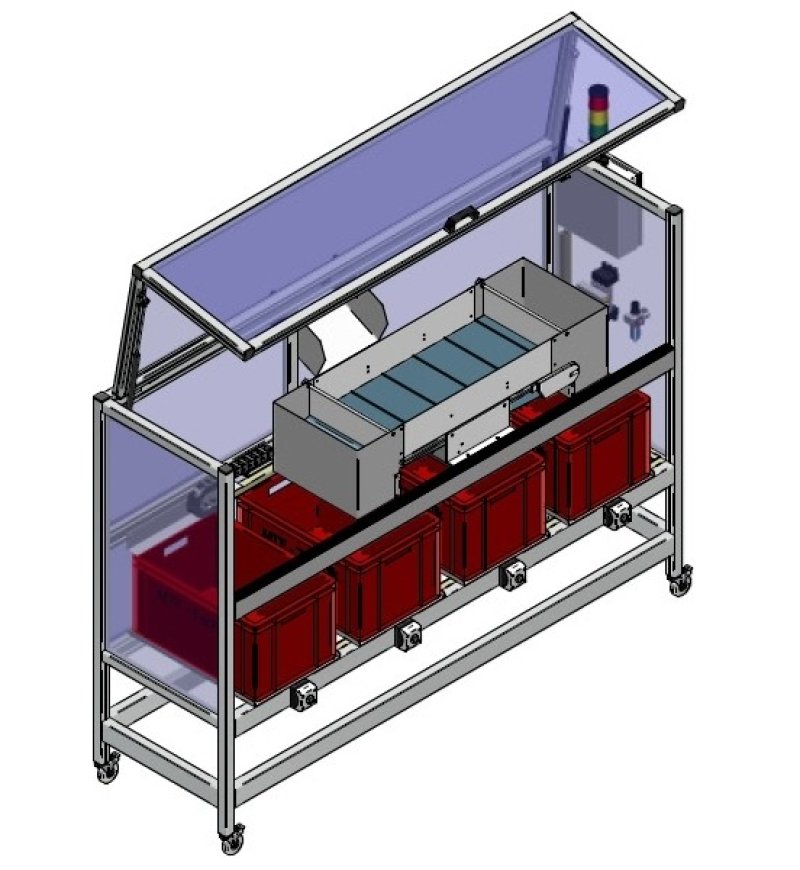 Verschiebepuffer
2-Way Distribution Systems
Pneumatic see-sawing, reversible conveyor belts or two-way switches can be used both for quality assurance and for automation.
QA points can, for example, be installed directly in the output shaft of an injection moulding machine to sort sprues or reject pieces.
By contrast, two-way distribution switches serve for alternate-sided filling of two containers and thus present - often in combination with a counter control - a buffer solution.
The design with regard to material, dimensions, controller configuration, bases or machine connections always depends on the specific task at hand.
Pick-up Systems and Buffer Stations
The Pickup System Type 202 is an integral component of the MTF automation programme. The devices serve as buffer stations at the end of a production chain and is designed as a caroussel for boxes or bags.
In combination with a counting control they serve the precise piece-count product filling. Further peripheral devices like a feeding conveyor can be controlled likewise.
The design of the turntable with respect to material, diameter, geometry of the bag retainer centering is depending on the customer requirements.
Special versions in stainless steel design, e.g. for use in the clean room, can also be realised. Likewise, multi-level deposit stations are feasible.
Multi-Level Conveyor Belts and Lift Systems
Ever more frequently, the space available for finishing operations comes to a bottleneck. Apart from an increase in the productivity of the machines and the personnel, the surfaces must be used ever more efficiently.
Multi-Level conveyor belts, in part also in connection with automatic lift systems, offer here the ideal solution for unmanned buffering of a larger production amount - e.g. in the framework of a night shift or weekend production.
The systems are specifically designed and constructed for the task at hand in order to enable an optimal fit with available infrastructure and output.
Linear Buffer at Production Machines
In case containers need to be filled and buffered directly at the production machine it is recommended to use a linear box storage system. Especially when the production machines stand parallel to each other and there is relatively little space in the width, the narrow systems come into use.
The control of the box buffers depends on the individual application. So, for example, the container exchange can take place after an adjustable time or be controlled by a counting of machine impulses. Likewise, additional separation and counting systems or a counting of pieces by integrated weighing modules are possible.
Modular-constructed systems - also in combination with roller conveyors - enable versatile usage possibilities at different production machines.
Multi-Linea Buffer Stations
In many production processes, the available space increasingly becomes a problem. The move to automatised, unmanned production and the associated temporary material buffering provide lean solutions.
Here the Multi-Linea from MTF Technik offers the optimal solution. Depending on the design, cartons, boxes or bags can be automatically filled and then buffered.
The Multi-Linea consists of a ground plate with uptake vehicle for containers or bags. Because of the narrow drive concept, a very good use of space can be achieved with this system.
Especially when the space available is narrow but relatively long, the Multi-Linea can show its strengths.
Rotary Distributor "Multi-Rounder"
The MTF Multi-Rounder is used for part counting and distribution into different containers. In addition, it is also used when, for example, pieces must be cooled in different containers after the production process or bulk pins must be set aside in containers.
Depending on the application, it can be used as a rotary distributor with an action radius of 360° or as a swing slide with a radius of up to 270°.
The MTF counter control is very easy to operate. It measures machine signals and controls other peripheral devices, such as a feed belt, if necessary.
Apart from the standard version of the slide made from hard PVC or stainless steel various materials and sizes are available.
Special output functions and interfaces can be realised with freely programmable controls, e.g. Siemens S7, VIPA, Bollrath, etc.
Parallel Buffer with Pneumatic Shifting Unit
The parallel buffer with shifting unit serves the space-saving buffering of containers on two parallel, counter-run transporting conveyor belts.
Empty containers are carried forward on the first belt to the filling position and then moved parallel onto the second belt.
Depending on the task, one shifting unit can be used to create a U-shaped material flow or two units to create a complete circulation of the containers.
Especially with complete circulation, this system provides a very good use of space.
With the use of only one shifting unit, the return transport can also optionally be accomplished with a roller bed.
Roller Conveyors as Buffer Lines
Roller conveyors have many uses in internal logistics. Especially at the end of buffer lines they offer the advantage of collecting the goods to be transported without additional sensors and controls and, for example, providing a place for manual inspection.
Depending on the situation, the frames are made of steel or stainless steel (e.g. for clean room applications) and rollers of PVC, steel, aluminium or stainless steel.
The length, width and roller distribution are adapted to the applicable requirements.
Accumulation Tables
Accumulation tables are used for the short-term storage of materials of different types. They are, for example, often found behind packaging machines when bags must subsequently be packed by hand.
They can likewise serve as an intermediate buffer between two processing steps.
Shifting Buffer Units
Shifting buffers are used with small buffer amounts for which a multi-level belt system in combination with a lifting unit does not make sense. These shifting buffers are an exceptionally efficient and compact solution.
Depending on the task, the systems can also be designed for use in the clean room. Smooth surfaces and the use of stainless steel and anodized aluminium prevent wear and particle emissions.