Limited service due to conversion of the ERP server on 16 April 2021
14.04.2021
Due to conversion work on our ERP server, we will no longer be able to map business processes on Friday, 16 April 2021 from approx. 11:30 a.m.
The creation of quotations, orders, delivery notes, invoices etc. will no longer be possible from this time. From Monday, 19 April 2021, all functions will again be available without restriction.
We ask our customers and suppliers to take this into consideration.
Many thanks in advance.
Your MTF team
---
MTF Technik receives new certificate for climate-friendly energy supply
13.04.2021
MTF Technik has received a renewed certificate for climate-friendly energy. Since October 2017, our company has been completely supplied with climate-neutral, environmentally friendly energy mainly from renewable sources (0% coal, oil, nuclear power), thus offsetting 158.18 tonnes of CO2 emissions. Our supplier LichtBlick has once again confirmed this contribution with this certificate.
More information on the energy supplier: LichtBlick
---
Various Conveyors and other demonstration devices available at short notice
09.04.2021
we strongly recommend to browse to Service / Special Offers on our website - here you find several demonstration devices for conveying, separation and automation*:
Your benefits:
devices are in very good / mint condition
available at short-term notice
favourable prices
First come, first served!
Our local sales agencies are at your disposal for further information . Or contact us directly via info@mtf-technik.de.
*Offers are depending on availability and are subject to modification
---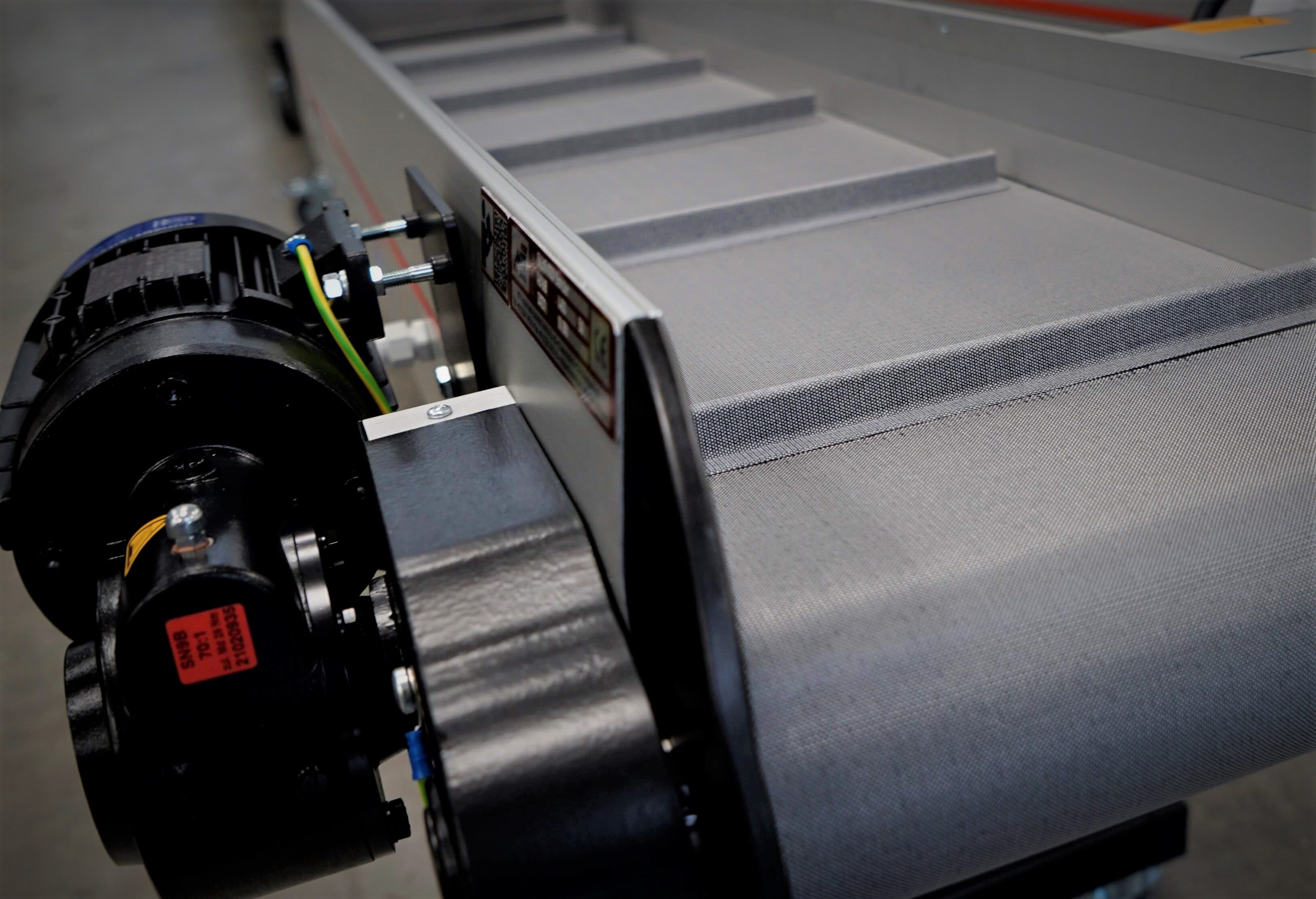 MTF Technik receives major order for conveyors in plastics industry
26.02.2021
A renowned German manufacturer of technically sophisticated plastic articles for diverse industrial applications has placed a major order with MTF Technik for the supply of more than 40 belt conveyors for integration into injection moulding machines. The task is to create a special connection of the devices to the machine bed to prevent small components from falling down.
We are very pleased about the trust placed in us and the intensive business relationship for more than 40 years. Already now, more than 300 conveyor belts and separation drums by MTF Technik are in operation 24/7 at this company.
Would you like more information about our various solutions for the plastics industry? Then just have a look here.
---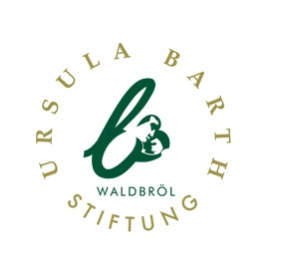 MTF Technik supports the charity project "Helfende Hände Oberberg"
03.12.2020
In these times, it is especially important to support social organizations - precisely because their fundraising opportunities are limited due to the pandemic.
For this reason we decided to donate most of our Christmas budget to the local project "Hilfe für Nick & Co. - Helfende Hände Oberberg".
This project helps seriously ill and handicapped children and their families in case of financial shortages. In this way important equipment can be purchased, therapies can be carried out, children's wishes can be fulfilled and the families can be supported in their cooperation with official authorities.
Further information about this project of the Ursula-Barth-Foundation can be found here (German language):
---
COVID-19: Visitor Information
30.10.2020:
Have you been in an international risk area according to the definition of the Robert Koch Institute in the last 14 days?
(Please note the current entry regulations of the German state of NRW: land.nrw/corona - available in German language only)
Have you had contact with anyone with Covid-19 diagnosis in the last 14 days?
Do you currently suffer from influenza-like symptoms, like fever, strong cough or respiratory problems?
If you can answer at least one question with "yes", we ask you to refrain from a personal visit to our premises.
Please feel free to contact us at any time by phone (No. +49 (0)2261 - 94 31-0) or e-mail (info@mtf-technik.de).
Thank you very much and stay healthy!
Your MTF Team
---
NEW: Advanced control units for MTF separators
16.09.2020
For the separators Multi-Separator MSL/MSR, the Screw Separating Attachments Type SAL/SAR as well as the Separating Roller and Disc Attachments Type TA / SS we are now using a further developed motor control system. The 24V drum motor integrated in each unit can now be operated in 15 speed steps between 15 and 95min-1 via the control system. The speed can easily be adjusted to the respective separation task by means of a rotary switch. As a further innovation, the control system now also has an additional interface via which the unit can be started and stopped. For this purpose, a 3-pole M8 socket is provided on the housing for an external, potential-free switching contact.
Further information about the separators:
Multi Separator
Separating Attachments
Any questions regarding parts separation?
Your local MTF sales agency will be happy to advise you!
or simply contact us via info@mtf-technik.de.
---
New field service consultant for MTF Technik in the Rhine-Main region
10.08.2020
We have expanded our field service team in Germany and will from now on also support our customers in the Rhine-Main region with our own consultant (postal code: 54000 to 55999, 60000 to 63699, 64000 to 69999).
Mr. Georgios Tsekouridis will be at your disposal with immediate effect for all tasks in the field of conveyor technology, separation and automation.
He will succeed Mr. Frank Schuba, who will accompany the handover until the end of the year in order to ensure optimal customer support.
For further information, please feel free to contact Mr. Tsekouridis. After an on-site visit, he will be pleased to develop customised solutions for optimising the internal material flow.
You can reach him at any time using these contact details:
Georgios Tsekouridis
Bayernstraße 2
D-63846 Laufach-Frohnhofen
Tel.: +49 170 24 55921
georgios.tsekouridis@mtf-technik.de
---
Successful digital presentation at the Swiss Plastics exhibition in Lucerne/CH
27.01.2020
The rage of products of MTF Technik was presented at the traditional Swiss Plastics exhibition in January with a new concept. At the booth of our Swiss sales agency HATAG Handel und Technik AG all visitors could inform themselves virtually about our conveying technology, separation and automation devices andwere advised by the MTF consultants. We would like to say "thank you" for your interest in our products and the numerous requests for quotations.
More information here:
https://hatag.ch/modules//index.php?location_id=68
https://www.visit.swissplastics-expo.ch/en/
---
MTF Technik receives major order from the automotive sector for 2020
18.12.2019
A particularly good news for the end of 2019:
A large European customer from the automotive industry places an order for 189 conveyor belts with MTF Technik. The conveyors will be used to link production machines and a logistics system.
From February 2020 on, the equipment will be delivered in several stages .
We are glad for this new challenge and the confidence placed in MTF Technik.
---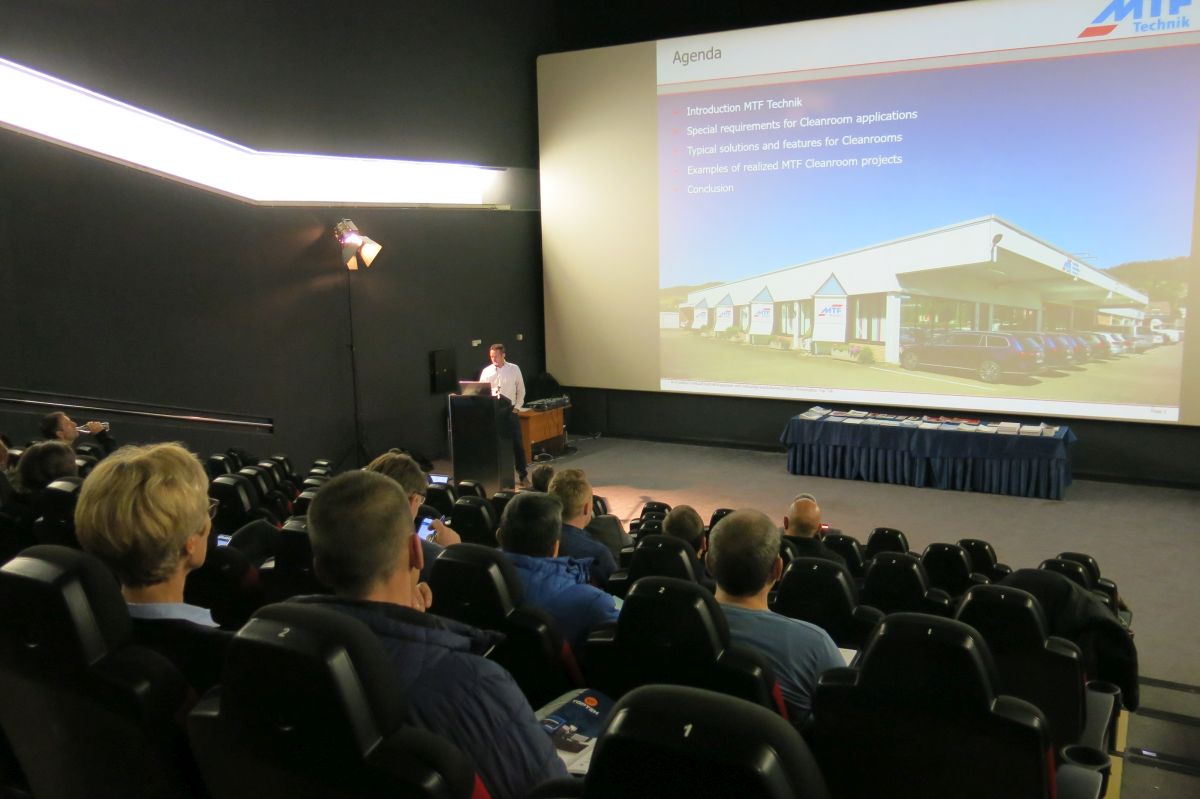 Conveying Technique for Clean Rooms at the Technology Days of Top Teh in Slovenia / Serbia
15.11.2019
At the Top Teh Technology Days for Clean Room Applications of the new agency in Slovenia / Serbia (12.-14.11.2019), MTF Technik presented clean room applications for conveyor belts. The innovations presented by managing director Hardy Schürfeld met with great interest. Numerous contacts to Top Teh's partners and customers could be established.
---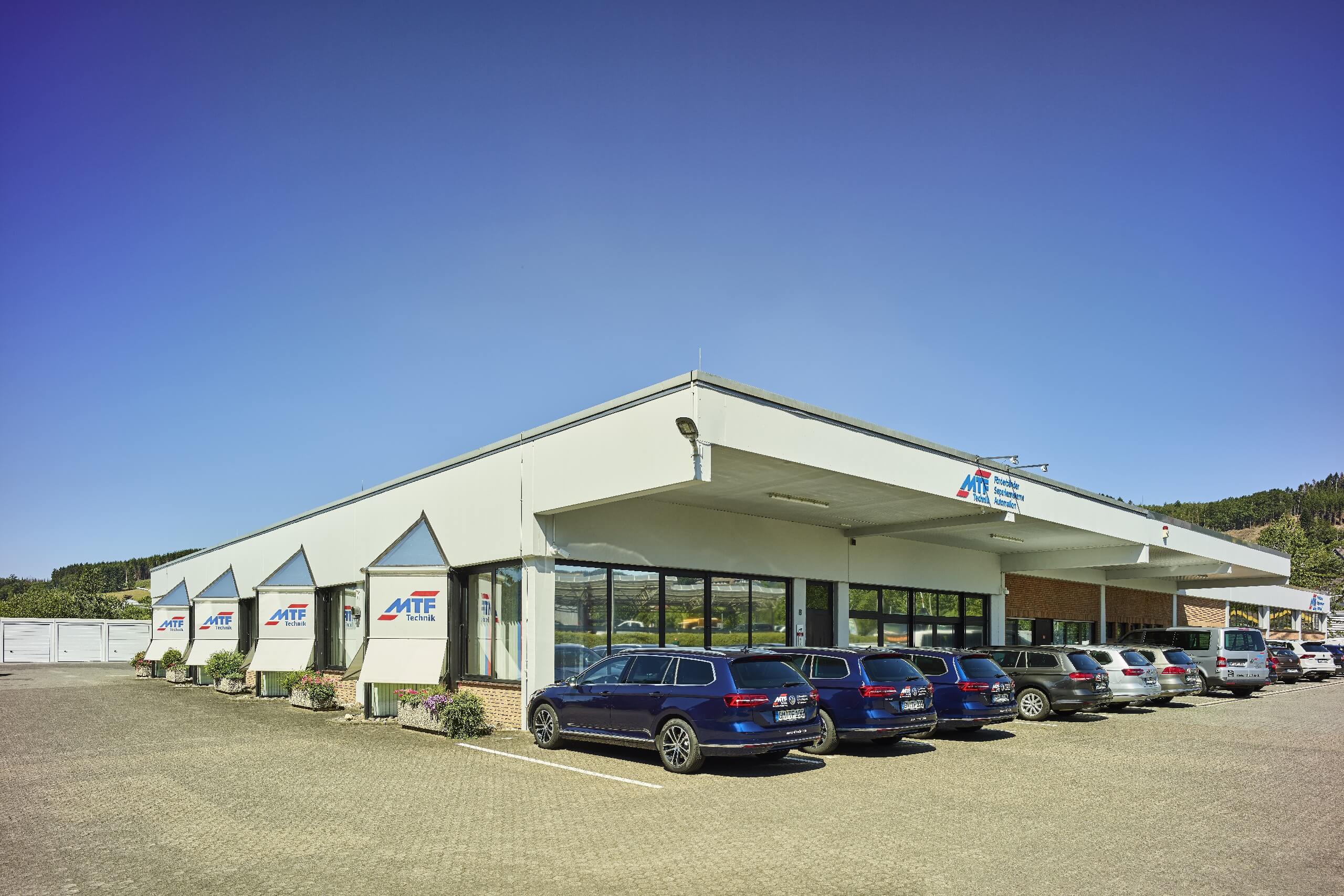 Environmentally friendly investments for climate protection
06.11.2019
MTF Technik also makes a contribution to climate protection:
In the last two years, considerable investments have been made at the company to save energy. The existing heating system of the company building has been replaced by modern condensing boiler technology. By purchasing climate-neutral green electricity, we avoid 170t CO² emissions annually (certificated).
The entire interior lighting in the production area and to a large extent in the administration area was converted to energy-saving LED. In addition, the entire roof area was provided with additional insulation.
---
K 2019 - Successful presentation of integrated solutions for material handling
25.10.2019
MTF Technik sees the presence at K 2019 as a big success. Our aim was to use the K show for the maintenance of customer relationships. Indeed, we could welcome a lot customers at our stand and had many interesting conversations which lead to new projects. Their main interest was on our recent product innovations and advancements of common devices. We have noted a tendency away from standard conveyors towards integrated solutions for the materal handling, such as buffer facilities. Here we could welcome a lot of new prospective customers, too.
Moreover, K 2019 was an occasion to broaden our international network of sales agencies and win a new representation for the area of Ex-Yugoslavia. We are looking forward to a prosperous co-operation with our new partner Top Teh d.o.o. in Škofljica / Slovenia.
We are saying 'thank you' to our customers for this positive response and are looking forward to the exciting projects to come.
See you again at the international plastics processing exhibition FAKUMA 2020 in Friedrichshafen/Germany.
Your MTF-team
---
Top Teh d.o.o. is new sales agency for MTF Technik in Ex-Yugoslavia
25.10.2019
From now on, the Slovenian company TopTeh d.o.o. is your partner for MTF Technik in the countries of former Yugoslavia. Top Teh has long-term experience in the plastics processing industry and is successful distributor of injection moulding machines (Sumitomo Shi Demag) and also peripheric devices.
On 13 and 14 november, our managing director Hardy Schürfeld is presenting the MTF Technik portfolio at the headquarters of Top Teh in Škofljica.
Address:
Top Teh d.o.o.
Reber 10
1291 Škofljica
Slovenia
Tel. +386 (0) 1 787 16 61
Fax +386 (0) 1 787 16 62
info@topteh.si
www.topteh.si
---
Successful participation at the plastics fair PLASTPOL in Kielce/Poland from 28 to 31 May 2019
13.05.2019
Conveyor technique by MTF Technik is a well established part of the Eastern European Plastics Processing Fair PLASTPOL in Kielce/Poland. At the booth of our sales partner PLAST LINE we were able to present several conveying, separating and buffering devices to the visitors.
We are glad about the huge interest in our solutions for the internal material flow.
Please click here for more information about MTF Technik in Poland:
http://plastline.com.pl/
---
Design your own conveyor with the Product Configurator
07.09.2017
MTF Technik offers a Product Configurator on the website, where you can design your own conveyor with all required features. The configurator is available from the MTF homepage, e.g. via the red box "Product Configurator".
The configurator is based on the engineering portal "PARTcommunity".
You can choose all features such as dimensions, heights, belt specifications, drive unit, base frame and some extra equipment in a modular system. The configurator is self-explanatory - the user is guided through every single step of the programme.
Finally you can download your specific product as as data sheet (PDF) with rotatable 3D-model and forward it to MTF Technik for verification and make a quotation, accompanied by a technical drawing in CAD-format.
Initially, this service is available for all straight Multi-Tech conveyors.
Start now and configure your own MTF-conveyor!
We are looking forward to your virtual visit.