Advisor for Clean Room - Medicals - Food
Typical Problems:
Conveyor technology has to comply to clean room conditions
Parts that come into contact with the product have to be conform to FDA / EU regulations
Avoidance of contamination of the conveyed goods with dirt
Reduction of abrasion and wear of the conveyor technology
Solutions from MTF Technik:
For over 45 years, MTF Technik has been supplying many manufacturers of medical technology articles worldwide with conveyor technology, separation systems and automation solutions. Here, thousands of devices have been tested in continuous use, some for decades. Even if each task has its individual requirements, there are some solutions, which are generally recommended:
Use of FDA-compliant / EU-approved belt types
Parts in contact with the product are made of stainless steel
Use of smooth-body motors and drum motors
belt covers as protection against contamination
Tapered rollers and space for the belt to prevent abrasion
Easy-to-clean construction
Integration of ionisation devices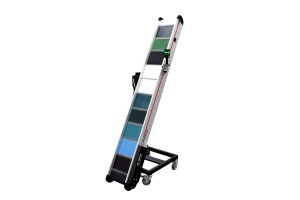 FDA-compliant / EU-approved belts
An essential requirement in connection with cleanroom or medical technology as well as foodstuffs are belts that have FDA approval or EU conformity. Components that have direct contact with the material being conveyed must meet the strictest quality requirements with regard to the materials used. Behind this is essentially the requirement to control and limit the possible transfer of substances contained in the belt to the material being conveyed in order to exclude contamination and damage.
For this purpose, MTF Technik offers a wide range of different belt types with various surfaces and colours. In the food sector, blue belts are very popular, as contamination is usually easily visible on them. Spores, mould and food residues are usually easier to detect on blue belts than on materials of other colours. In the medical technology sector, white belts are often used, but blue, petrol and green are also used depending on customer requirements.
In terms of materials, PU materials with a smooth and hard surface are usually the best choice. These can be easily cleaned - e.g. simply with warm water or with isopropanol, etc. The surfaces are accordingly resistant to these common cleaning agents.
For special applications, FDA-approved PVC or silicone belts are also used (e.g. for very high product temperatures or if a certain degree of entrainment must be ensured).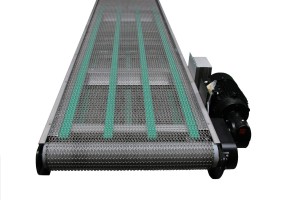 Parts in contact with the product made of stainless steel
If packaged food or e.g. medical-technical packaging articles (syringe bodies, tablet tubes, etc.) are transported on a conveyor belt, it is often sufficient to manufacture the product-contacting parts e.g. from anodised aluminium.
In the case of unpackaged foodstuffs or other pharmaceutical or medical-technical articles, on the other hand, there is often a requirement for parts in contact with the product to be made of stainless steel. This applies, for example, to side guides, corrugated edge covers, etc. Depending on the customer's requirements, we can provide material certificates for these parts. The photo shows a conveyor belt with stainless steel mesh belt.
In order to create completely smooth surfaces, stainless steel coverings are also welded flush and grounded smoothly on the surfaces if required. Stud bolts at the rear side do the fastening, so that the conveyed product cannot be damaged and there will be no dirt zones.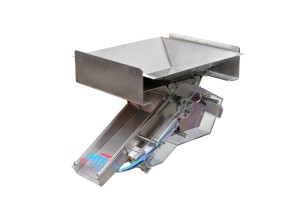 It is not only conveyor belts that require stainless steel surfaces that come into contact with the product; we also offer corresponding solutions for other products in the MTF Technik range. For example, we manufacture our reject chutes completely from stainless steel. On request, clear covers, e.g. made of PET, can of course also be integrated to enable visual checks of the production process at any time.
MTF reject chutes are available in many different designs - as 2-way chutes or as 3-way reject chute, with a classic flap mechanism or also with MTF's patented rotary shaft design. This technology offers the great advantage that there are no gaps in the area of the switch mechanism. This ensures that no small components can get jammed laterally between the housing and the change-over flap. The occurrence of abrasion is also effectively prevented, as the rotary shaft mechanism is mounted on ball bearings and cannot rub against the housing.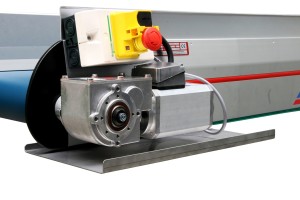 Smooth-Body Motors and Drum Motors
In a cleanroom environment it is important that the devices are easy to be cleaned. Therefore, standard motors with their cooling fins and niches on the surface are often counterproductive. Ambient dust collects in these niches and is difficult to be removed.
Likewise, most motors have fans that are supposed to cool the motor. In some applications, however, this can disrupt the laminar air flow and creates unintended turbulence in the ambient air.
For these applications, MTF offers smooth-body motors. These have smooth outer surfaces, making them easier to clean. In the hollow shaft motor version, this can be directly mounted onto the drive shaft. Therefore there is no need for a chain drive and the associated lubrication work.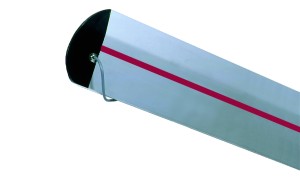 The integration of motor and gearbox into the drive roller is the smoothest solution. This is usually our recommended motor type for conveyor belts in cleanroom conditions. The main advantage is that the drive is virtually invisible. Only the cable exit of the motor is led out of the conveyor belt body.
This means that due to even fewer interfering contours, the smooth surfaces of the guide profile can be cleaned quickly and easily if necessary. There is no air turbulence due to the cooling of the motor as well, as it emits its heat via the belt.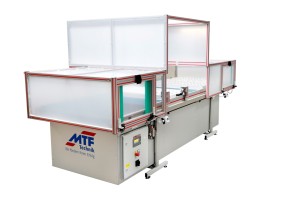 Covers for enclosing the conveying area
To prevent parts getting dirty by the environment during transport, conveyors are often equipped with covers. These can be made of different materials - e.g. aluminium, stainless steel, PET, macrolon, etc. - and in different designs - e.g. plug-in, hinged, fixed, with handle, without handle, etc.
Functional aspects play a role in determining the exact design. For example, collision points with existing interfering contours due to machine geometries must be taken into account as well as the behaviour of the conveyed goods. For example, can products accumulate in the conveying process and thus become jammed under a cover, etc.?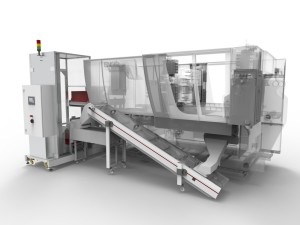 Various factors have to be considered when selecting the material. For example, the possibility to control the process naturally speaks in favour of clear covers, but depending on the material, these can become "blind" over time - e.g. through cleaning or contact with the material being conveyed - or the material may attract dust.
In addition, there is always the requirement that components that are manufactured outside the actual cleanroom using a filter module on the production machine must be transported into the cleanroom through encapsulated conveyor sections.
For this purpose, the profiles of the MTF Technik conveyor belts can be completely enclosed at the belt infeed. By means of covers above and below, a completely encapsulated conveyor section can be realised. This saves valuable cleanroom space and thus reduces costs considerably. enclosed conveyor sections in buffer systems can also be realised in this way.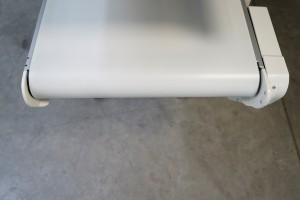 Abrasion prevention through belt centring
There are different methods to realise the straight tracking of a flexible plastic belt on a conveyor. MTF Technik has always preferred belt centring by means of conically rotated drive and deflexion rollers. The conicity of the rollers achieves a certain self-centring effect of the belt - the belt tends to run to the highest point in each case - i.e. to the centre of the belt.
In contrast to forced guides, e.g. guiding rails or profiles attached directly to the side of the belt or so-called wedge guides, the guidance by conical rollers works without contact between the moving belt and the fixed frame.
The belt can run flexibly and is adjusted to have sufficient space to each boundary. Thus, abrasion is consistently avoided.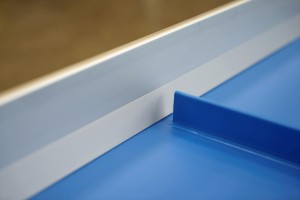 Easy-to-clean construction
In cleanrooms, it is very important that all surfaces are designed to be as easy to clean as possible and that all areas are as easily accessible as possible. For thip purpose, MTF Technik offers aluminium profiles with anodised surfaces that have a lot of know-how in detail, e.g. the lateral sealing strip profiles are attached to the guiding profile by means of a clip mechanism.
This allows us to easily adapt to different belt thicknesses and to enlarge the gap between the fixed profile and the moving belt as far as possible and as small as necessary. In clean room applications, we try to achieve the largest possible gap between the belt and the side guide or sealing strip to prevent contact and thus abrasion. The extent to which this is possible, however, depends on the conveyed material, because the components must not get stuck within the gap.
The clip mechanism means that no screws are required for fastening in the area that comes into contact with the product. This results in completely smooth surfaces that are easy to clean. At the same time, the elimination of screws also prevents the formation of butt edges where components could be damaged.
The sealing strips are also provided with a slight slope of about 6°, resulting in an upward-opening geometry between the cleats and the sealing strip. This avoids jamming and looping effects of components in this area.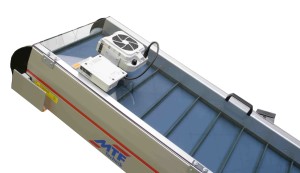 Integration of ionisation devices
Especially in the plastics industy, static charging of the components is a common problem. In addition to a possible danger of electric shock for employees, the charges have the negative side effect, especially in clean rooms, of attracting dust.
To prevent this, the components must be discharged. MTF Technik uses various ionisation units from different manufacturers for this purpose, depending on the application. The units are then usually mounted on belt covers or transfer bonnets in order to impinge the conveyed material with ionised air accordingly.
Further details on this topic can also be found in our Advisor for Static Charging Problems
Further application examples for cleanrooms are presented in our chapter Industry solutions